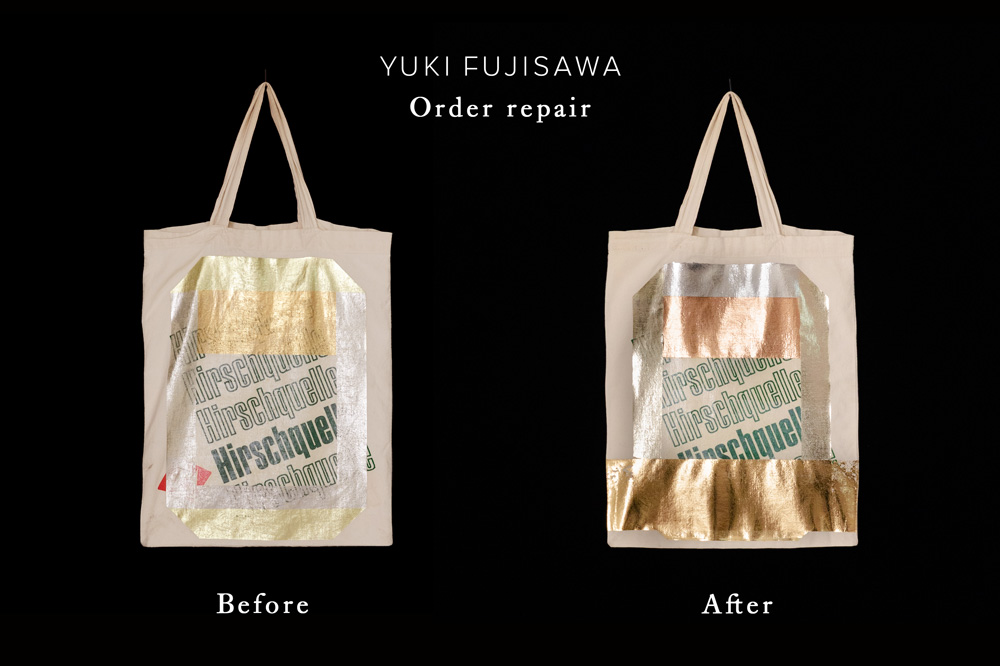 Drawing the future of the story with repair and reweaving
At YUKI FUJISAWA, we accept orders for foil repairs and damage repairs such as holes so that you can enjoy "changing with time". The items we create will spin a new story after being handed over to someone. If you put foil on the scratches and blemishes with a new feeling, the next page will be added to the story. From 2022, we have started re-knitting the sweater that you have been using as a "sweater of the 'previous' memory". It is precisely because we are doing handwork in our atelier that we would like to spend time with you so that you can use our products for a long time.

For areas that have been damaged through regular use, we offer repairs that create new moments by layering foil in new colors, like Kintsugi.
- REPAIR
Repairing faint foil, foil stamping on damaged areas, frayed knitwear, polishing jewelry, repairs, etc.
- HOW TO ORDER
1. Consultation – First, fill out and submit this form. I would like to ask about the current situation.
2. Quotation/Payment – ​​We will let you know the cost and completion date. If you accept the estimate, please transfer the repair fee.
3. Receipt – Send to YUKI FUJISAWA Atelier with prepayment.
4. Repair – We carefully repair each piece according to its condition.
5. Delivery – We will send you the finished product. I hope you can spend a long time together.
- TIME
About 4 weeks after deposit
Please understand that we will need enough time to repair each item by hand.
-PRICE
One case
Tote bag foil repair ¥3,630
T-shirt foil repair ¥5,830
Order foil repair 1 location ¥1,540
Fix frayed knitwear (small) ¥385, (large) ¥550
...etc
Aran sweaters and jewelry will be individually quoted. We will bear the shipping fee after the repair is completed. (Hokkaido, Okinawa and some remote islands are excluded)